Service Outline
By introducing Human-Centered Design (HCD) from the planning and development stage, IID provides comprehensive support not only for your interface but for the entire product/service user experience.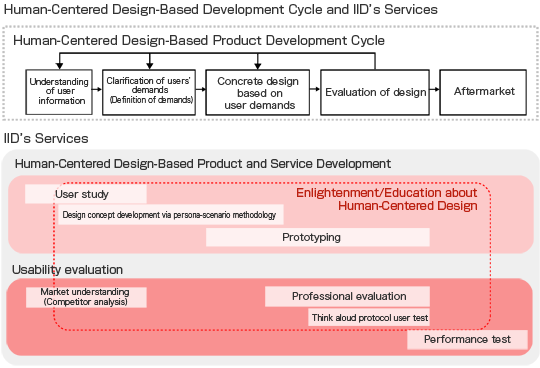 Solutions
Human-Centered Design-Based Product and Service Development

User study

Identifies what users are looking for in a design by gaining an understanding of how they actually use the product/service and what their latent and tangible needs are.
[Commonly-applied methodologies]

User scenario method (Contextual inquiry)
Ethnography/Fieldwork

Design concept development via persona-scenario methodology

A design concept is drawn up through the behavior of an imaginary user (persona).
[Commonly-applied methodologies]

Work model analysis
Persona creation (Behavior scenario creation)

Prototyping

The repeated use of prototypes for conducting usability tests and gaining feedback allows the client to cut development costs while achieving a highly-refined design.
[Commonly-applied methodologies]

Usability Evaluation

User Test (Usability Test)

Users are given a task that involves using a product or web site prototype, and the task-completion process, their behavior, and their comments are used to identify interface-related issues.
[Commonly-applied methodologies]

Think aloud protocol user test
Performance test
Eye tracking analysis

Heuristic Evaluation (Profession Evaluation)

Usability engineers and/or user interface designers evaluate the interface in reference to established rules of thumb, and identify problems and propose improvements.
[Commonly-applied methodologies]

Heuristic evaluation (Cognitive walkthrough)

Competitor Analysis

This is conducted with the objective of understanding the de facto interface standard in the industry, or understanding the positioning of your own company's products. It can also be used for localization to Japan or to other countries.

Enlightenment/Education about Human-Centered Design

We offer support for in-house education on research methodologies/enlightenment activities related to the meaning and usefulness of Human-Centered Design.

Class

Theme : Human-Centered Design/Research Methodologies (Persona-Scenario methodology, Usability evaluation, etc.)

Workshop

Theme : Research methodology practice
(Design development via persona creation, Prototyping, User test, Heuristic evaluation, etc.)

Web site

Offers a large volume of information related to usability/Human-Centered Design, including Japanese translations of all of the "Alertbox" columns of Jakob Nielsen, the leading authority on usability, and the "User Engineering" lecture by Professor Masaaki Kurosu, the leader in the usability field in Japan.
Achievements
Industries
Automobiles, auto-related equipment, electrical machinery, information appliances (PCs, PC peripherals, cell phones), medical equipment, other general web site operators (portal sites; e-commerce sites; corporate sites; insurance, banking, securities and other online commerce), etc.
Themes
Study for understanding users' usage status (Ethnography/Fieldwork)
Quantitative research on users' usage status and functions used (Internet research)
Log data analysis of users' usage status and functions used
User study via contextual inquiry
User study-based work model analysis
User study-based persona/behavior scenario creation
Prototype development support(Paper prototyping, PowerPoint prototyping, html prototyping, etc.)
Identification of problem areas/suggestions for improvement via user test
Identification of problem areas/suggestions for improvement via heuristic evaluation
Eye tracking analysis
Impressions and acceptance of new interface(Usefulness of functions/Matching with usage occasions)
Analysis of competitive models' interface (menu composition, labels, UI parts)
Gathering and analysis of consumer reports, etc.