Service Outline
By proposing the best possible approaches for each stage of design activity, we help the client (client needs) find the best match with the market (consumer needs), and also provide support in finding and cultivating new markets.
IID conceives of design in the following three stages, and offers services for each stage.
Product design (Creating a product)

Brand design (Creating competitiveness)

Market design (Creating a market)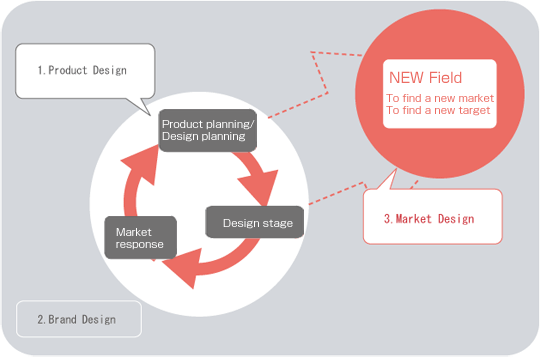 Solutions
Product design

Product planning/Design planning

To understand target users' needs

Market understanding study
Target study
Concept study

Design stage

To find out if the proposed design will sell or not

Previous design acceptance evaluation
Product design acceptance evaluation

To stimulate designers' creativity

Design activity support project

Market response

To understand the response to the launched design

Post-launch acceptance evaluation

To get an overall profile of the impressions that were conveyed by the individual components of the launched design

Design evaluation profile research

Brand design (Creating competitiveness)

To create a brand
To grow a brand

Market design (Creating a market)

To find a new market
To find a new target
IID's design-related research methods
To gain a deeper understanding/to hear out different opinions via relatively homogeneous groups
To get an understanding of opinions in the context of individuals' lifestyles, values, and tastes
To investigate a design quantitatively/To see differences between demographic groups
To obtain quantitative/qualitative evaluations of confidential materials

Central location test
Clinic

To collect professional, "bird's eye-view" opinions/To hear opinions inclusive of technical trends
To gain a deeper understanding by seeing how/where the product is actually used

Home visit interview
Ethnography

To gain an understanding of the profile of product design evaluations

Design evaluation profile research study

To collect reference materials and opinions on design/To work collaboratively on design
Some techniques employed for our research methods
Evaluation Grid Method
Shadowing
Photo sorting
Creator workshop
Positioning map
These are just a few of the many techniques that we employ in accordance with your needs.
Other design-related solutions
Facilitating of communication between the client's department (designer/design department) and the planning/product planning department

While design can be abstract, intuitive, and difficult to understand, we offer support with concrete design research findings that can be shared throughout your company.

Cross-industrial exchange

We support collaborative exchanges with designers from different industries.
Achievements
Industries
Automobiles, auto-related equipment, electrical machinery, information appliances (PCs, PC peripherals, cell phones), public transportation, etc
Themes
Target design preferences study
Target user trends study
Design milestone study
Design creation support study
Design evaluation profile study
User understanding study
User identification study
Cross-industrial exchange
Next-generation new product needs study
New region design preferences study
New market identification study
New market understanding study
Product design acceptance evaluation
Previous design development support
Previous design evaluation
Comparative design study
Post-launch design acceptance evaluation, etc.