Outline
With IID's global network, you can conduct internet research-based marketing research with access to cooperating panels covering over 20 million people from all over the world, including not only the countries of North America and Europe but also BRICs (Brazil, Russia, India, China), Southeast Asia (Thailand, Indonesia, Vietnam), and the Middle East.
Since you can use the same research system that is employed in Japan, consistency of research quality can be maintained for multi-country research.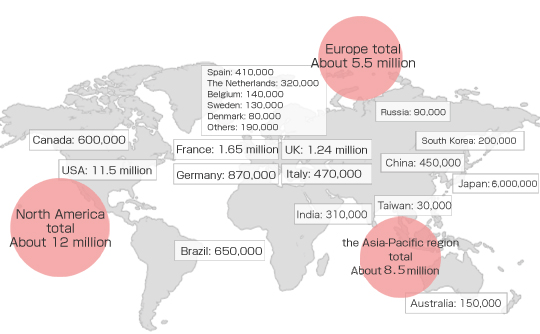 * Please inquire for specific demographic details about each country's panel.
* The panels displayed are only a small portion of the total. Countries without a panel number listed may also be accessible; please do not hesitate to contact us for inquiries.
Strengths
You can conduct internet research with access to 20 million people from all over the world.

You can conduct internet research with access to 20 million people from all over the world, including not only the countries of North America and Europe but also BRICs (Brazil, Russia, India, China), Southeast Asia (Thailand, Indonesia, Vietnam), and the Middle East.

Regardless of which cooperating panel you use, you can utilize the same internet research system, one that is directly controlled by IID.

We employ a "sample supply method," wherein the survey respondents from cooperating panels are directly guided to IID's internet research system. Therefore, even if overseas panels are used for internet research, virtually the entire research process, from questionnaire creation to tabulation and analysis, is conducted under IID's direct supervision, allowing for the maintenance of a high level of research quality throughout.
IID's internet research system includes not only the basic SA, MA, and OA-type questions but also employs the "Confirmit" system, which allows for more high-level question conditions. It can also be used for multi-country research, multi-language research, and global tracking studies.

Internet research respondents can also be used for conducting offline research (such as group interviews).

As with Japanese internet research, you can recruit respondents for offline research (central location tests, group interviews, home-use tests, etc.) from among internet research